Valencia, the third largest city in Spain, is known for its rice, the Valencia Fallas festival, and of course, its spectacular views. Many vacationers come to Valencia because of the popular Valencia sights during the day and its diverse and vibrant nightlife. Valencia is incredible in all aspects but we believe that the best way to view the city is from a rooftop perspective. There are many noteworthy Valencia rooftop bars that you will not want to miss during your visit in Spain, and our local experts at Sea Saffron are always ready and waiting to wine and dine you from the highest rooftop terrace in Valencia.
1. Ateneo Sky Bar & Restaurant
2. Sea Saffron Gastronomic Experience
3. Panorama
4. L'Umbracle
1. Sea Saffron
Sea Saffron gastronomic tours give customers the opportunity to see Valencia from new heights. We aim to provide visitors with the best of Valencia through our prize-winning wine-tasting, gourmet tapas menus, and the best sunset that the city has to offer. A team of born-and-bred Valencians, we pride ourselves on our in-depth knowledge of the city and strive for excellence when catering for our customers. After a comprehensive tour of the City of Arts and Sciences, we will accompany you to the highest rooftop bar in the city which is the icing on the cake to a perfect day in Valencia. Our gastronomic experience, served on the rooftop terrace, includes a variety of tapas hand-prepared by our extremely talented private chef and is paired with the best local of Valencia wines. At Sea Saffron, we believe that views are paramount when experiencing a delicious meal and, subsequently, have made sure to choose the most breathtaking scenic view overlooking all of Valencia, giving you the opportunity for enviable Valencia photos. Whether you are seeking a memorable location for lunch with a view or somewhere spectacular to see the sun set on the city, Sea Saffron is definitely not your typical sit-down bar and restaurant. Our team aims to go above and beyond to provide an all inclusive Valencian experience to truly enhance your holidays to Valencia.
Book the best Valencia rooftop bar HERE!
2. Ateneo Sky Bar
Ateneo Sky Bar is a great place to go to if you are looking for a wide range of cocktails. Located in the heart of the city center, this Valencia rooftop bar gives its customers a chance to appreciate the liveliness of the locals, the buzz of tourists in the streets, and the beautiful surrounding architecture. This rooftop bar has established itself as a local favorite due to its atmosphere and versatile setting throughout the day. With later closing times on the weekends, visitors are encouraged to enjoy the nightlife and order cocktails at the full bar. Ateneo is a perfect place to spend the evening enjoying mouthwatering drinks and relaxing across the evening, and also provides a more animated and upbeat environment at night.
Address: Carrer de Moratín, 12, 46002 València
Hours Open: Monday closed, Tuesday – Thursday 5PM – 1AM, Friday – Saturday 5PM – 3AM, Sunday 5PM – 1AM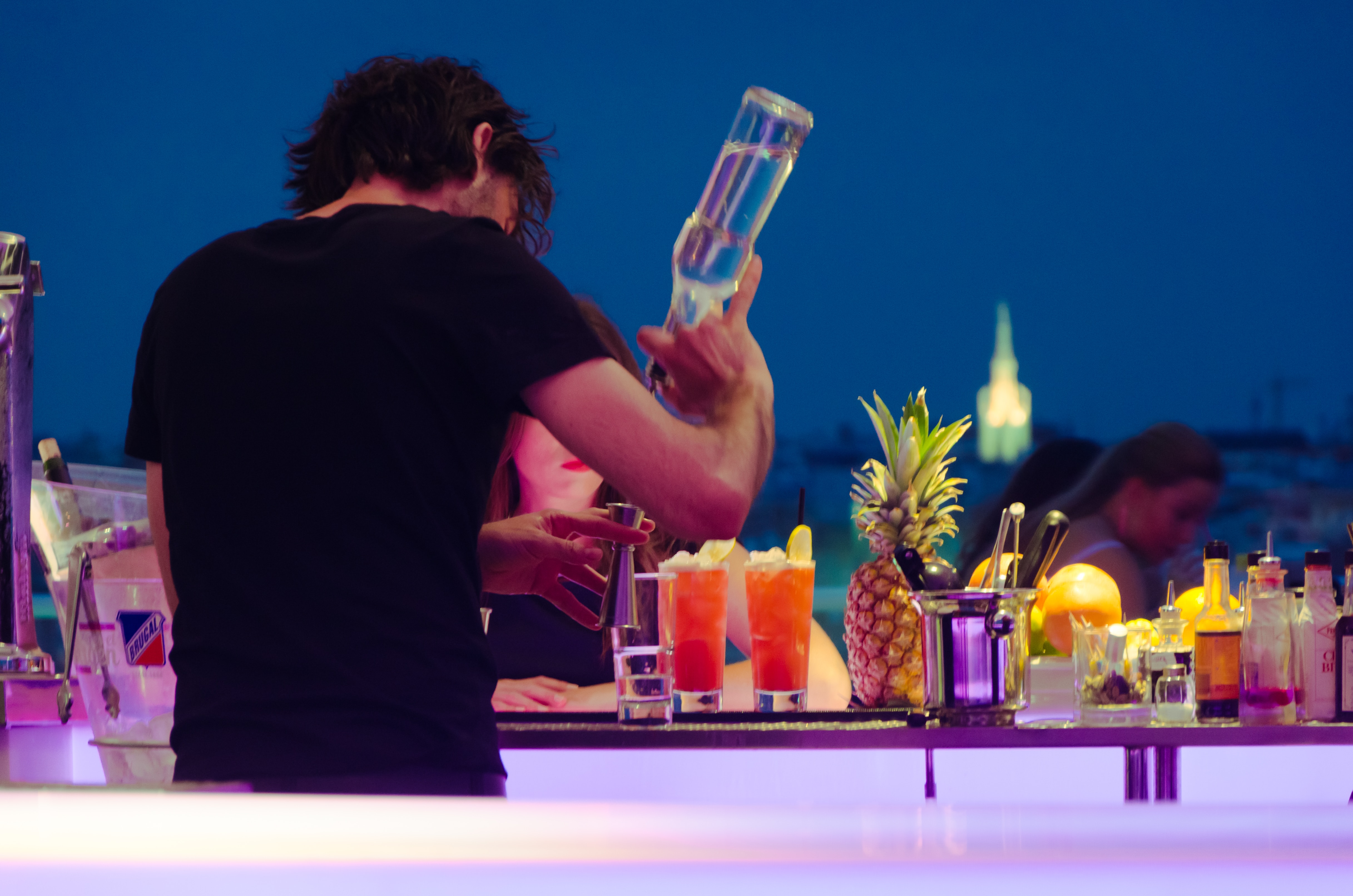 3. Panorama
Above all, Panorama Restaurant and Bar is known for its location which places you overlooking the expanse of the Mediterranean sea. What makes this place so popular is its versatility for any occasion, season, and vacation. With smart white linen table settings and aesthetically pleasing dishes, this is a great option if you're looking to enjoy sea views, whatever the occasion. The unmatched proximity to the sea is what keeps its clients coming back and its ideal location to watch the beautiful beach sunsets whilst enjoying some drinks. The terrace bar is especially popular on the weekends due to its long hours and wide array of alcoholic beverages.
Address: Marina Real Juan Carlos I, s/n, 46024 Valencia
Hours Open: Sunday – Thursday 12PM – 12:45AM, Friday – Saturday 12PM – 4:30AM
4. L'Umbracle
If you are looking for an all night party scene then L'Umbracle is your place. L'Umbracle featrures as part of Calatrava's masterful City of Arts and Sciences. The L'Umbracle mimics a greenhouse design and is a true feat of architectural ingenuity which is an incredible tropical garden by day a rooftop party by night. This extremely versatile bar is located in the heart of the modern complex which makes up part of the complete Sea Saffron tour through the modern city. People from all different backgrounds come to party here because of its distinctive style, themed nights, and their blend of latin, house, and chart music. Whilst the basement club, Mya, is open throughout the year, the l'Umbracle serves as a club only throughout the summer months, maximising the fantastic Valencia weather. This high-fashion outdoor nightclub has two full bars with attentive staff members and great cocktails and is definitely a good option when thinking about where to party in Valencia. L'Umbracle is a stunning example of nature and architecture in harmony and it gives you a full view of the masterpiece that is the City of Arts and Sciences.
Address: Av. del Professor López Piñero, 5, 46013 València 671 66 80 00
Hours Open: Monday – Sunday Open 24 hours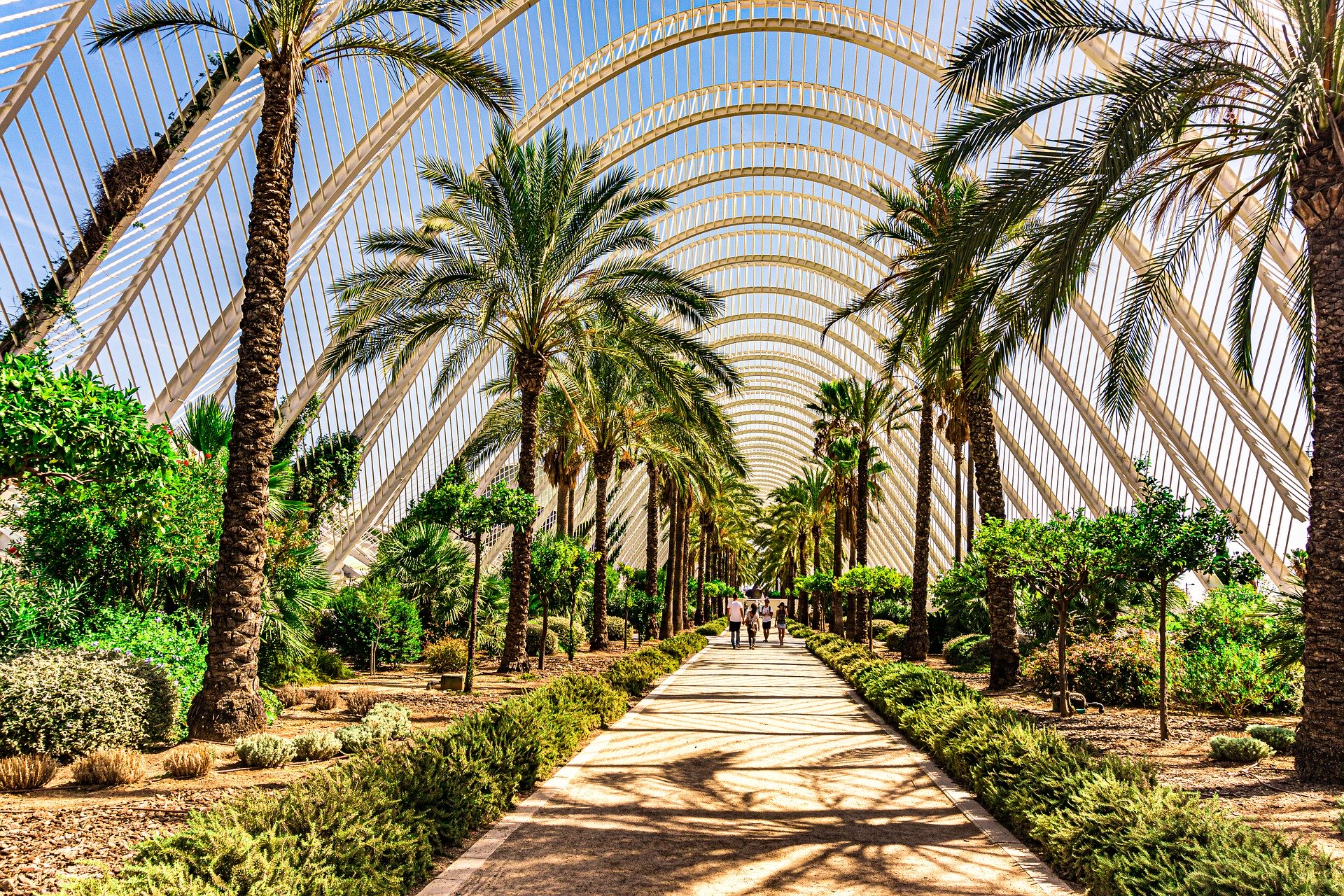 5. Marina Beach Club
Despite not being the highest valencia rooftop bar, what Marina Beach Club lacks in height, it makes up for in views—it is home to some of the best ocean views from their terrace. This location feels like a country-club, serving as a place for relaxing throughout the day and for partying and sipping cocktails throughout the night, all with ocean-side views. Although not the cheapest option, many people rave about this club because of its atmosphere and electronic music. This luxurious bar is worth every penny due to the menu of Asian fusion and extensive cocktail list, as well as the beachside ambience. Be sure to check out their 'tardeo' throughout the summer months—afternoons spent drinking and partying in the warm sunshine.
Address: Carrer Marina Real Juan Carlos I, s/n, 46011 Valencia 961 15 00 07
Hours Open: Saturday – Thursday 11AM – 4AM, Friday 11AM – 3:30AM