Whilst we wait to host you in Valencia again soon, let the Sea Saffron team host you virtually in our brand new online paella cooking class!
We created Sea Saffron back in 2017 with a focus on showcasing the best of Valencia: its rich culture, world-famous gastronomy and relatively undiscovered wine culture.
The concept behind our tours was a blend of our most important cultural landmarks combined with something truly special - tasting menus and wines in unique venues of the city.
What we discovered to be our favourite part was the connections we were able to make with people from all over the world, not only getting to share our culture but to hear the stories of others, share incredible memories and create a global network of friends.
The last few years have been amazing and we cannot wait to welcome guests back into our city very soon.
In the meantime, we hope to welcome you back to Valencia virtually as we embark on our first online adventure! Maybe we are impatient but we couldn't wait to see the faces of our guests and were just itching to host again!
Subsequently, we are excited to announce the launch of our online experience: The Valencia Paella Workshop. If people cannot come to Valencia, we want to bring the best of Valencia to them in their homes. Come and join us as we cook together, step-by-step, and prepare an authentic Valencian paella.
Come and cook with Sea Saffron!
Bring the magic of Valencia into your homes
Why Paella?
Paella for us is more than just a dish - it is typically a way to get together with friends and family over a leisurely Sunday. We wanted to transmit this special aspect of our culture and bring it to your homes.
We are sure you have heard of the world-famous paella but what a lot of people don't know is that Valencia is actually the birthplace of the dish.
In our workshop, we wanted to share with you the most important tips and tricks passed down from generations of Valencians and learnt from my abuela in our family home.
Throughout quarantine, like many, I had a chance to practice my culinary skills and used this time to learn and cultivate the art of the perfect paella!
Looking back on 2020, we tried to calibrate and figure out the next steps for Sea Saffron. We missed our clients, we wanted to host online and we had been learning how to make paellas - it seemed like a no-brainer!
We have been lucky enough to reconnect with former clients online and host some new faces from all over the world. We are very excited for this next company venture!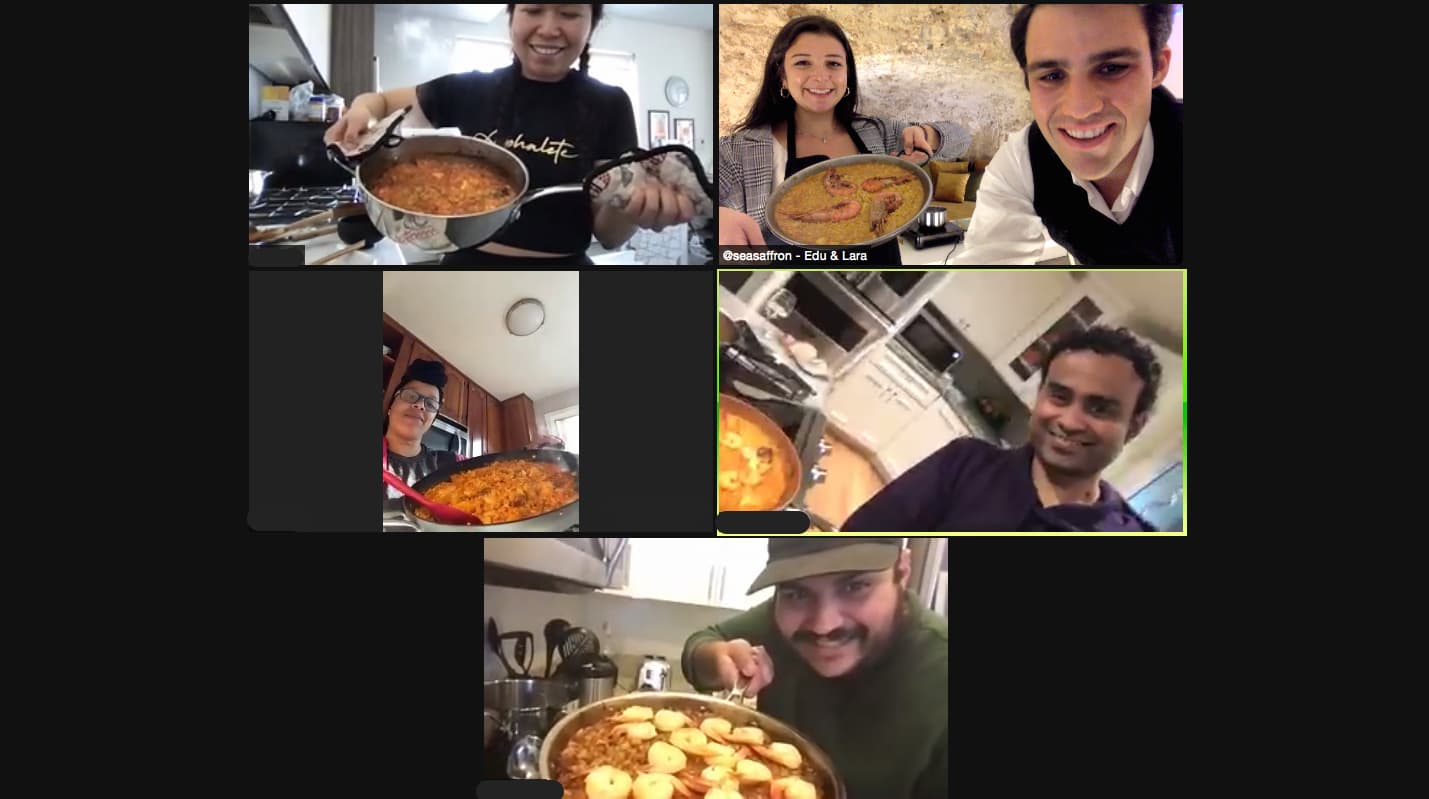 "I had a wonderful time with Lara & Edu as they transported me to Valencia from my London kitchen."
"I had never done a cooking class before but the end result was so delicious thanks to the help of the excellent hosts. Learning the technique from them live from Valencia was extra special and I have been telling all my friends about my authentic paella!"