Although the city of Valencia is divided into 19 districts with several barrios (neighborhoods) per district, a high quality of life and outdoor lifestyle can be seen across the city. Due to the accessibility of the city, it is easy to cover many neighborhoods in a short 2 day trip, or spend longer exploring certain areas of the city. Sea Saffron has compiled a list of the top neighborhoods in Valencia that you must visit. You can also explore certain areas with our knowledgeable hosts and gaze down upon the entire city from our exclusive rooftop venue.
Best Neighborhoods to Visit in Valencia
1. Old Town
Old Town, or Ciutat Vella in Valencian, is arguably Valencia's most beautiful neighborhood. Come see the historic center of El Carmen for yourself and you will see what all of the hype is about. Similar to most historic neighborhoods, much of the wonder lies within getting lost in the winding streets and alleys. However, you can also visit the many Valencia sights that are located here such as the impressive Central Market that possesses a more authentic feel compared to other markets in the city. Sip wine in the sundrenched plazas or, on a rare rainy day in Valencia, this neighborhood offers lots of indoor alternatives.
If you want to learn more about this beautiful neighborhood, discover the Old Town with Sea Saffron, an award-winning small group tour company. Your passionate host will take you on a walking tour around the most iconic Valencia sights of this stunning neighborhood. The experience culminates in the most historic venue. Dine in a beautiful private space dating back to the 11th Century and the original walls of the city. Here your host will share the most representative and traditional Valencian tapas paired with delicious regional wine.
2. City Center
The city center, also known as L'Eixample, encompasses many smaller barrios. The area in general is known for its modernist-style buildings and penthouses, classy tapas restaurants, wine bars and international cuisine. As such, it is a sought after location in Valencia and makes it a very interesting place to explore and enjoy as a tourist.
Pla del Remei
Pla del Remei is the main shopping area of the city center. All cities have a "main street", and Calle de Colón is Valencia's very own. Colón is where you can go purchase designer fashion, electronics, and anything else you may desire. There is also a place called 'Mercado Colon', an ex-market hall which now functions as a location for luxury cafes and bars which is a great spot to get food and drinks. This is the perfect spot to try a traditional Valencian food - horchata and farton! If you are a keen shopper, this is where you will be able to find not only the high-street favorites, but smaller boutiques.
Ruzafa
Within the city center, you will find the barrio of Ruzafa. A short walk down any of Ruzafa's streets will prove its reputation as Valencia's most hip neighborhood. In most cities and countries, graffiti is often looked upon as an egregious defacement of property. However, in Ruzafa, it is extremely common and considered an artistic expression, making it an adventure to simply stroll the neighborhood. You can explore the colorful Ruzafa market or check out the extremely versatile Ubik Café, which serves as a coffee shop, book store, art gallery, restaurant, and music space. If you are in the mood for some tapas, this neighborhood is dense with cool bars and tapas spots. We would recommend to check out Bar Vermúdez, a vertmouth and tapas bar that provides high quality drinks and tapas in the neighborhood.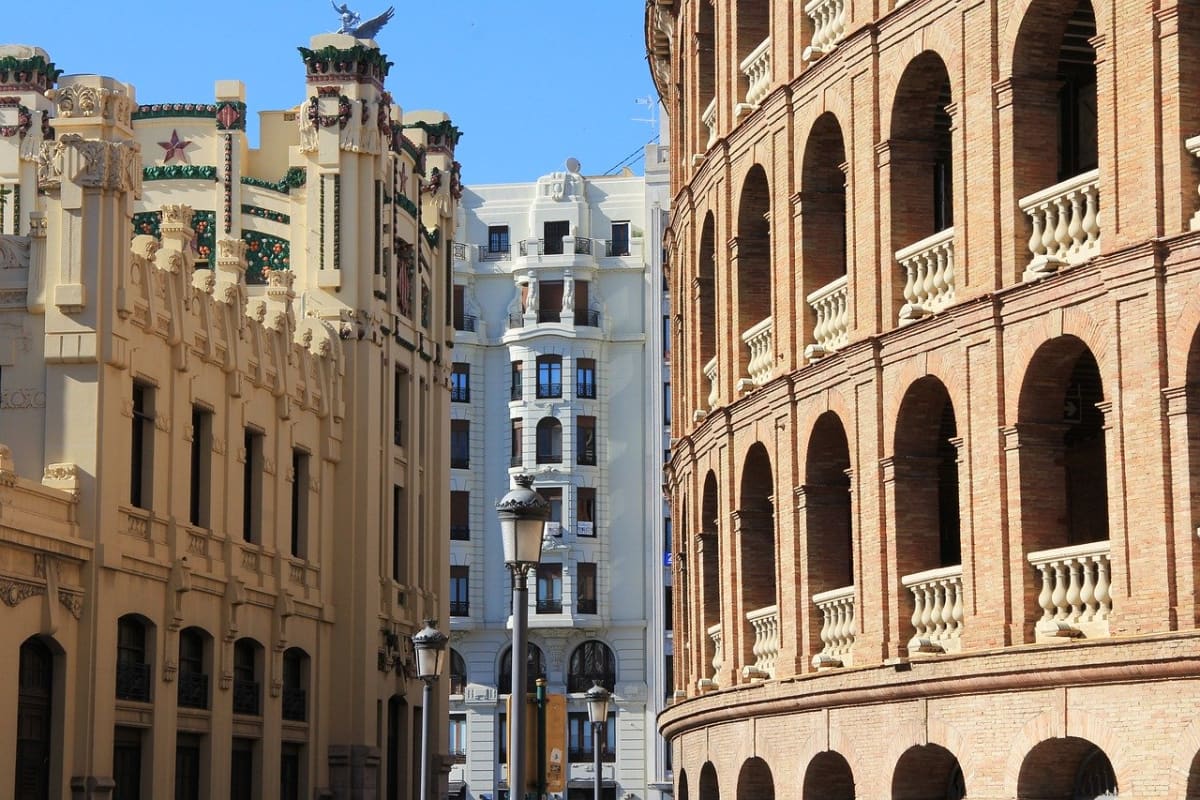 3. City of Arts and Sciences
The City of Arts and Sciences, found within the district of Quatre Carreres, is the most spectacular part of Valencia. Santiago Calatrava is a Valencian architect and engineer who designed the most impressive structures in the modern city. A trip to Valencia is not complete before visiting each of its five buildings. The Palau De Les Arts Reina Sofia is an opera house and performing arts center measuring over 70 meters tall. Calatrava's Hemispheric structure impressively houses IMAX theaters, planetariums, and laseriums. Moreover, designed in the image of a whale skeleton, the Museo De Las Ciencias Príncipe Felipe provides an unparalleled scientific experience for children of all ages. Furthermore, the Oceanographic is an aquarium over 500 different marine species to learn about. The last structure named Ágora is a large space that can be used for whatever events that may come to Valencia. MYA is one of Valencia's best nightclubs and can be found amongst the incredible architecture.
Discover the City of Arts and Sciences with Sea Saffron on TripAdvisor's top-rated experience and award-winning tour. This small group experience starts with a guided tour of the impressive and futuristic architecture. Your host will share stories behind the mesmerising structures before inviting you to Valencia's highest private rooftop terrace. From here, you can see all the main neighborhoods of Valencia from above. To accompany these panoramic skyline views, enjoy a 10-course menu of specially chosen tapas and wine, designed to showcase the best of the region.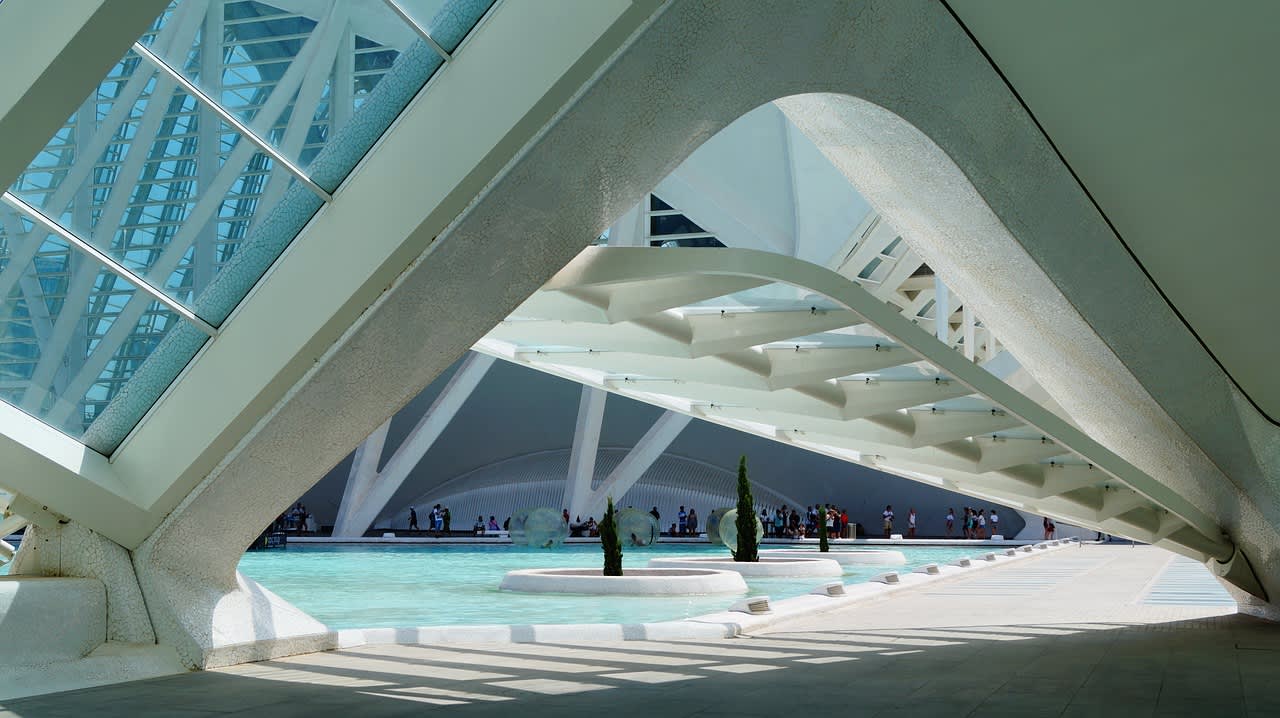 4. The Marina and Malvarrosa
Spend a tranquil day by the marina admiring the yachts and sailboats of the harbor. Watch a mesmerising sunset from the marina's viewpoint; these are especially spectacular in the summer months as swirls of purple and pink are spread across the sky. If you want to lounge in style, Marina Beach Club offers pool views during the day, and one of the summer's best parties during the night. For something more relaxed, there are a range of small harbor-side spots offering tapas, seafood, paella and drinks and a range of bars if you want to gaze at the water's reflections with a glass of wine.
Playa Malvarrosa is the most popular beach in Valencia due to its proximity to the city. Although Malvarrosa is more tourism oriented, there is enough room to find a place to dig your feet in the sand and catch a tan. Malvarrosa is the closest beach to the city center so it is possible to walk there, but taxis and public transportation are also available. Bus numbers 1, 2, 19, 20, 31, 32, N1, and N9 all pass by the beach. If the sea air makes you hungry, La Paz is a restaurant near the water and serves delicious and authentic Valencian paella. There are many restaurants on the beachfront offering paella, tapas, beers and wine - all with views of the expansive beachfront.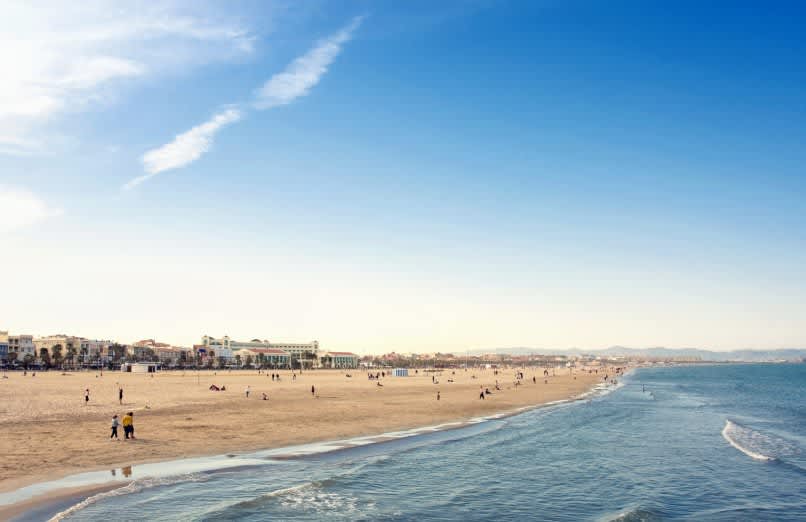 Source: https://www.visitvalencia.com/que-ver-valencia/playas-de-valencia/playas-urbanas/playa-la-malvarrosa
5. Patacona
Though not strictly part of Valencia, Patacona is definitely worth a visit. Patacona is a quaint neighborhood found a little North of Valencia in the district of Alboraia. Interestingly, Alboraia is also home to the traditional Valencian horchata! Would you like to soak up some Valencian rays without tourists kicking sand on your towel? Look no further than Patacona beach, which is more secluded and relaxed than most Valencia beaches. As a place where locals frequent rather than tourists, Patacona is the perfect place for a relaxing day in the sun. Due to its seclusion, we recommend either using the taxi service or public transportation. Buses 19, 31, 32, N1, and N9 will all take you to Patacona beach. If you get hungry and wish to continue your more authentic Valencia experience, eat at Torreta Patacona for a classic Mediterranean meal.
6. Discover the Neighborhoods with a Local
The best way to truly enjoy a city and its neighborhoods is by combining its sights, tastes, and sounds. Sea Saffron understands this and thus we combine the best sights of Valencia's neighborhoods with a gourmet take on traditional local cuisine. Combine an intimate small group tour, the key sights of Valencia, local gastronomy and wine and a unique dining venue. Discover why this is the top-rated activity on TripAdvisor as you explore the city in an authentic and special way. Our passionate hosts can answer any questions you may have regarding Valencia's neighborhoods and their history. Prepare for an intimate fine dining experience consisting of authentic tapas paired with the best of the regional wine.