We have carried out a comprehensive study to find the Best Spanish Wines according to internationally-acclaimed experts. We have prepared a list of the Best Spanish Wines under 20 € as well as the Best Spanish Wines when not factoring in budget. We hope that you find the results interesting and it inspires your wine choices!
Best Spanish Wines Study
Sea Saffron Research Team
Sea Saffron is a team of young hosts who have focused our careers around our passion for wine and hospitality. Focused predominantly on the Valencian region and its rich offerings, we are huge wine-lovers and love to explore the different regions of Spain. Taking advantage of a time of low tourism, we have developed a research study which we hope will be of interest to fellow wine aficionados.
Research Question: What are the best Spanish wines under 20 €?
Our Approach
In order to answer this question we decided to analyse how to evaluate what is a good or a bad wine. Even though we believe that wine is dependent on subjective taste we thought we would begin our research by comparing different universally-recognised expert criteria. To do this we used references from Spain, the United States, and the United Kingdom. All of the references chosen have the power to influence which wines are sold, purchased and consumed in their respective countries.
Study Criteria
Robert Parker
We selected Robert Parker due to his icon status in the world of wine. US wine critic, Parker, developed a 100-point scale to classify the world's best wines. Since then, he has become one of the most highly-acclaimed and influential wine connoisseurs in the world. Any wine with a score below 60 is classified as "undrinkable". 90-95 is classed as "outstanding" and 96-100, "extraordinary". We thought by including this scale, this would help us determine which wines were "good wines" in the most traditional sense.
Guía Peñín
We used Guía Peñin as a reference for Spain. The guide was developed by José Peñin and is now known as Spain's most comprehensive wine guide. Peñin has over 25 years of experience in the wine world. He was the founder of Spain's first magazine dedicated to wine, Bouquet. Since then, he has devoted his life to writing about wine and developing this guide. The guide, first launched in 1990, now boasts tasting notes and scores for over 10,000 Spanish wines. We wanted to see if the national perception of Spanish wines differed largely from the international markets. The guide works with a 100-point wine-scoring scale. Anything below 60 in this scale is classed as "not recommended". 90-94 is classified as "excellent" whilst 95-100 is "exceptional". More specifically, that the wine is extraordinarily impressive in all senses, able to stand out from other wines of its varietal, region and vintage.

Wine Spectator
Wine Spectator is an American wine publication and one of the first points of references in the United States for judging international wines. The editors taste over 15,000 wines every year in a series of blind tasting. From this they work to determine the best wines for that year from different global wine regions. As of last year, Wine Spectator had around 400,000 wine ratings and comments in their database. Their rating system is a 100-point scale. Any wine with a score of below 75 is classified as "not recommended". A wine score of 90 to 94 points signifies an "outstanding" and "superior" wine. 95-100 signifies a "classic" and "truly excellent wine".
Decanter
Decanter is more than just a wine publication. The brand boasts a magazine and website with one of the largest readerships in the world. Decanter is also one of the most prestigious wine awards in the world with bronze, silver, gold and even platinum categories. Every year they host the Decanter World Wine Awards and the Decanter Asia Wine Awards. Wines with a score of 90 - 94 fall under the silver medal category and the classification of "highly recommended". Wines with a score of 95 - 97 fall under the gold medal category and are classified as "outstanding" whilst 98 -100 are also in the gold medal category with a classification of "exceptional". Any wine with a score of below 85 has no accreditation of a medal.
Vivino
As a final criteria, we added Vivino to assess availability. In order for this study and research to be useful, we wanted our readers to be able to try any of the included recommendations, regardless of which country they are in. Vivino is an online wine marketplace with a database of over 10 million international wines. They possess their own rating system (out of a 5-point scale) based on user ratings.
Study Results
First, we present the findings of the best wines under 20. Taking into account the international criteria used for the study this refers to 20 dollars, pounds and euros.
Best Spanish Wines Under 20
From the table, we can see that wines produced in Rioja predominate in the results. In addition to producing excellent wines consistently throughout the past decades, this region has a very strong branding which is clearly represented by the amount of retailers importing wines from the area all over the world.
Another interesting insight we obtain from the study is that most of the criterias are aligned on their ratings. However, Wine Spectator tends to evaluate these Spanish wines with lower qualifications than the other experts.
Sea Saffron's Selection
As proud Valencians, we are heartened to see that two Valencian wines feature on the list; both from denominación El Terrerazo.
Mustiguillo Mestizaje Tinto 2017
View: Cherry
Aroma: Red and dark fruits, tobacco,vanilla, wild herbs, chocolate, toasted
Palate: Balanced and long, tasty, currant, red fruits, leather, spicy
Mustiguillo Mestizaje Blanco 2018
View: Bright golden yellow
Aroma: Floral nuances with notes of citrus and honey
Palate: Nice entrance. Cool, bulky and greedy. Long finish
Best Spanish Wines Available Worldwide
We carried out a second part of the study taking out the factor of price bracket. Exceeding the 20€ limit, the results were a little different.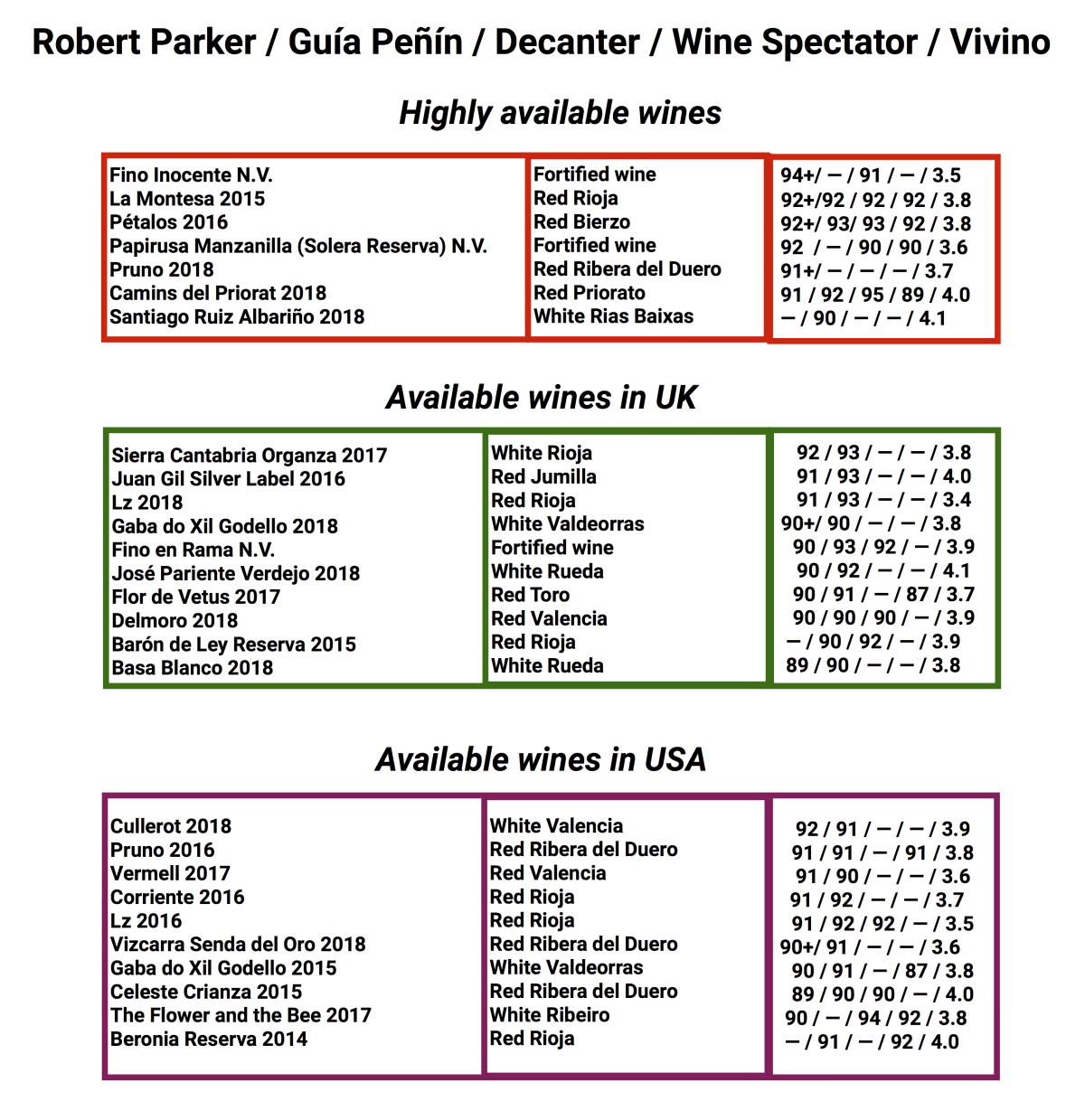 Once we stop factoring in price, the resulting table offers new insights to our study. In this case, we find it incredibly interesting that there is a clear increasing presence of wines produced in Ribera del Duero. Even though Rioja still predominates in the table, other regions start to gain importance. This is probably due to the factors of production in the different areas, finding smaller winemakers in diverse regions producing high quality and more expensive wines.
Sea Saffron's Selection
When dealing with a higher bracket, three Valencian wines feature on the list. Two are from Celler del Roure, one of the region's most renowned wineries, notable for its use of clay barrels and interesting wine tours.
Celler del Roure Vermell 2017
View: Cherry red with hints of maroon
Aroma: Ripe fruit and creamy oak
Palate: Strong and flavorsome. Highly tannic with toasted notes
Celler del Roure Cullerot 2018
View: Straw yellow
Aroma: Fruity and herbaceous
Palate: Pleasant on entry with an aftertaste of pine
La Comarcal Delmoro 2018
View: Ruby red
Aroma: Red fruits, herbs and spices
Palate: Floral notes with a slightly balsamic finish
Limitations
Our own taste might not be aligned with an expert criteria and especially given that we are filtering out with availability we are depending a lot on the branding of a given region and a given wine or winery. So you will see that Rioja as a region and Grenache as a grape variety predominates in the table; however, we are sure there are boutique wineries in many regions across Spain that are producing excellent wines which are not represented in this table.
Conclusions
We have loved doing this study and we hope that it enhances your perspective and even more importantly that you get a holistic view of Spanish wines. If you are interested in knowing more about the research or in us recommending specific wines, please feel free to contact us and we will definitely get back to you via email.