Covid-19 lockdown has transformed our lives in a previously unknown way. All countries start to think about exit strategies. Social distancing will be a must during a long but finite time. We are now trying to help wine consumers with tools that can ease this situation while providing a useful background for the future. Spanish wine lovers will find here proposals with updated information for wine tastings at home.
There is an increasing interest in Spanish wines both in the USA and Europe. Sherry and Rioja wines are still there with better wines than ever but many other Denominations of Origin (DO) are nowadays offering amazing wines for a very reasonable price. We will use three criteria for selecting QPR tastings: USA/Europe availability, an affordable price, and customary ratings, both user- and expert opinion-based.
Sea Saffron's Criteria
He is far more than a US wine critic. As the highest authority in the fields, his Wine Advocate acts as a lighthouse for any person searching for a good wine to taste. We will use a cutoff point of 90 to select the wines for our proposals
Vivino

User opinions are crucial in our 3.0 societies. This app has a huge acceptance all throughout the world. Not only does help when somebody needs good quality information about a particular wine but also is a reliable online platform to cover our buying necessities.


Pre-selection of red Spanish wines up to $20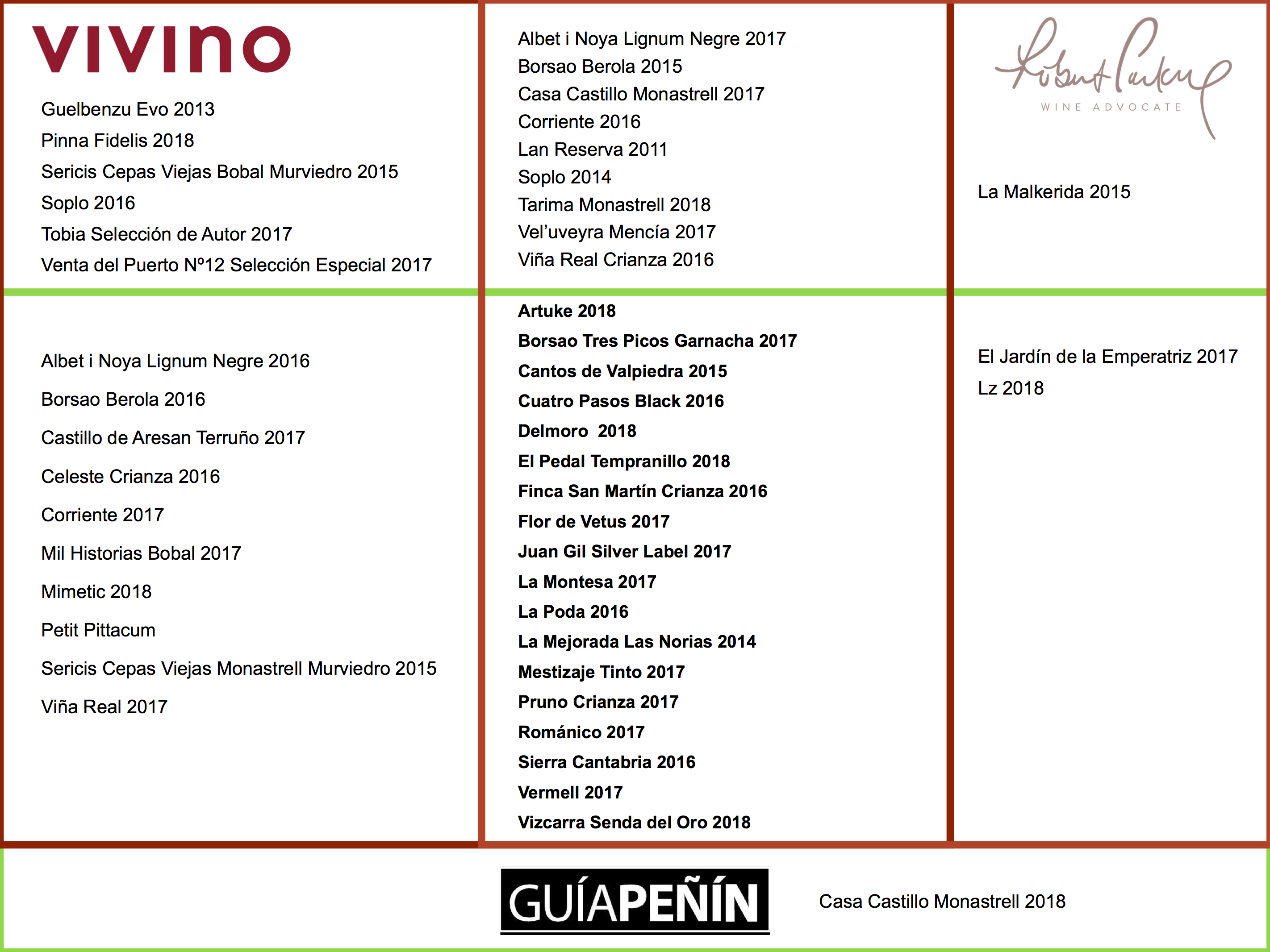 Mustiguillo Mestizaje Tinto 2017
View: Cherry.
Aroma: Red and dark fruits, tobacco,vanilla, wild herbs, chocolate, toasted.
Palate: Balanced and long, tasty, currant, red fruits, leather, spicy.
Finca Villacreces Pruno Ribera del Duero 2017
View: Black cherry.
Aroma: Red fruit, toffee, liquorice, spicy.
Palate: Full-bodied, long, ripen fruit, pleasant aftertaste.
Palacios Remondo La Montesa 2017
Color: Cherry.
Aroma: Wild herbs, cherry, raspberry.
Palate: Spicy, balsamic, balanced acidity.
Juan Gil Jumilla Silver Label 2017
Color: Deep purple.
Aroma: Currant, red berries, smoked.
Palate: Powerful and full-bodied, long, toasted and well balanced.
Borsao Tres Picos Garnacha 2017
Color: Intense cherry
Aroma: Ripe red fruit, floral.
Palate: Well structured wine, red fruit, leather, vanilla, soft tannins.