With over 300 days of sunshine per year, there is truly never a bad time to visit Valencia. Whenever you decide to spend your holidays in Valencia, you can experience the party spirit of the local people, the open-air nightlife, the delicious Valencian paella, and the breathtaking Valencia sunset. Or, come for one of the Valencia events if you want to truly party like a local. For foodies, there are plenty of sundrenched tapas restaurants, people enjoying local wine in the sunshine and paella by the beach. Sea Saffron shares the ultimate Valencia bucket list to maximise your 2 days in Valencia.
Itinerary for 2 Days in Valencia Spain
Day 1
Getting Around
Valencia is the third-largest city in Spain and is unique for its seamless blend of architectural styles. In just 2 days you can travel through many different periods of history. Valencia's Old Town encompasses Baroque, Roman and Gothic styles with architecture dating back to 1238, when King James I of Aragon reconquered Spain from the Arab population. On the other side of the city, set in the verdant ex-riverbed turned into a beautiful park of the Turia Gardens, you will find the iconic City of Arts & Sciences, a futuristic complex reminiscent of a sci-fi lover's dream. The city is very walkable due to its flatness, meaning you can cover the highlights of the city in one weekend or short trip.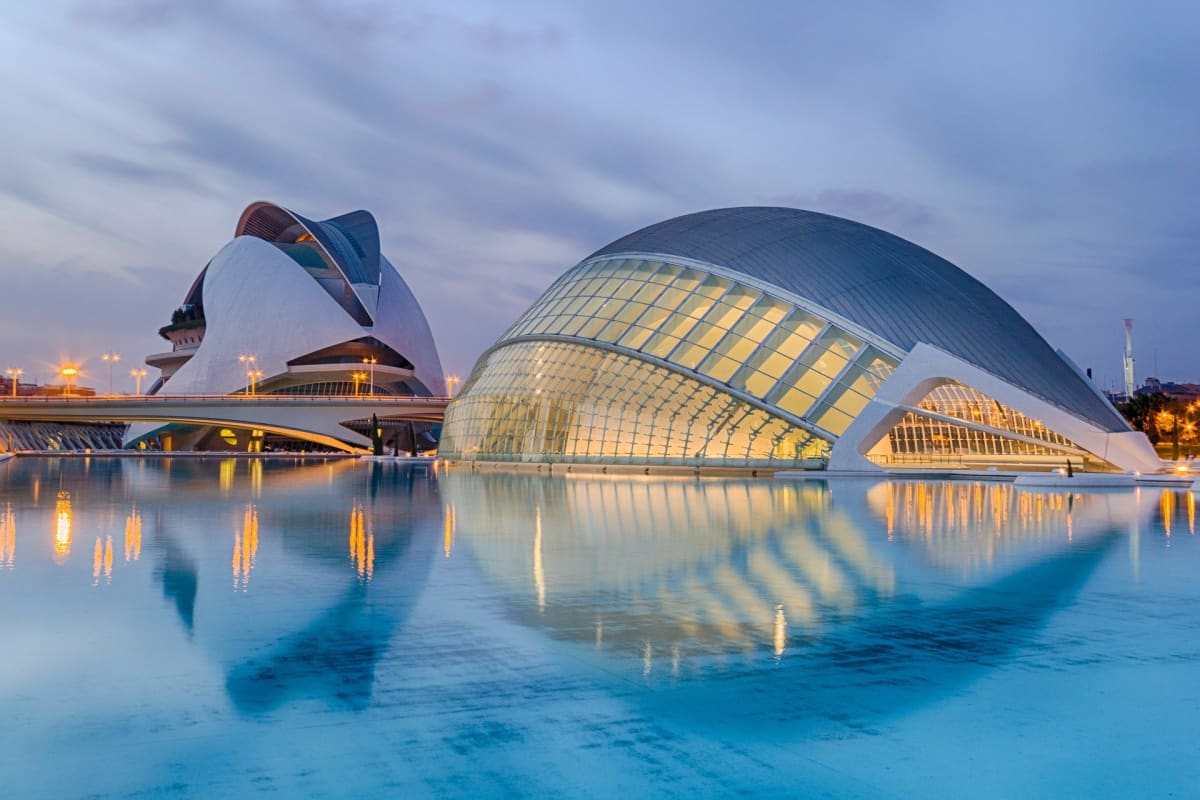 Authentic Valencian Breakfast
There is nothing more traditionally Valencian than a simple breakfast of 'tostada con tomate' (tomato and olive oil on toast) and a 'café con leche', enjoyed al fresco at the foot of Mercado Central, one of the most iconic Valencia sights. Found in the heart of the Old Town, gaze up at the impressive art-deco facade and soak up the ambiance of the busy marketplace. The market attracts locals and tourists alike. Enjoy the hustle and bustle from a neighboring cafe to fully immerse yourself in the local atmosphere.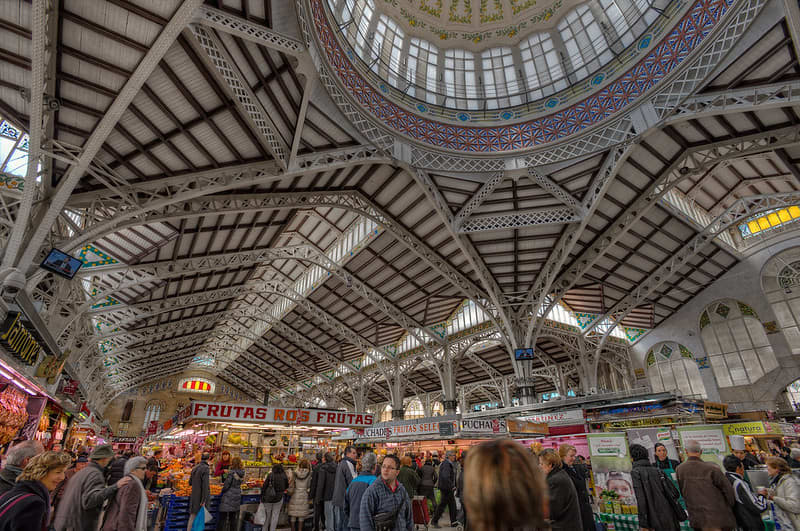 Visit the Old Town
After a laidback breakfast, you will be more than ready to explore the narrow streets of El Carmen. Learn the fascinating history behind the winding streets with Sea Saffron on an intimate small group tour. With the dramatic basilica in the Plaza de la Virgen, the spectacular cathedral in Plaza de la Reina, and the architectural masterpiece of Palau del Marqués, there is no shortage of incredible sights to see in Valencia's Old Town. Explore them with your passionate guide from the top-rated activity on TripAdvisor. Marvel at Mercado Central from the inside, paying special attention to the Moorish domes, and learn what makes Europe's largest food market so famous from your passionate host. Discover the secret local spots and gaze in awe at the magnificent Church of San Nicolas. This hidden gem and its stunning Baroque frescoes are truly awe-inspiring.
Your exclusive dining venue is nestled in the heart of Valencia's Old Town and is the oldest venue in the city. Enjoy traditional Valencian tapas surrounded by the original city walls in this intimate and unique space. Taste local delicacies and enjoy tasting wines of the region's most representative grapes. Your Sea Saffron host will share the importance and significance of these tapas, and the stories behind the wine, allowing you to have a multi-sensory immersive experience.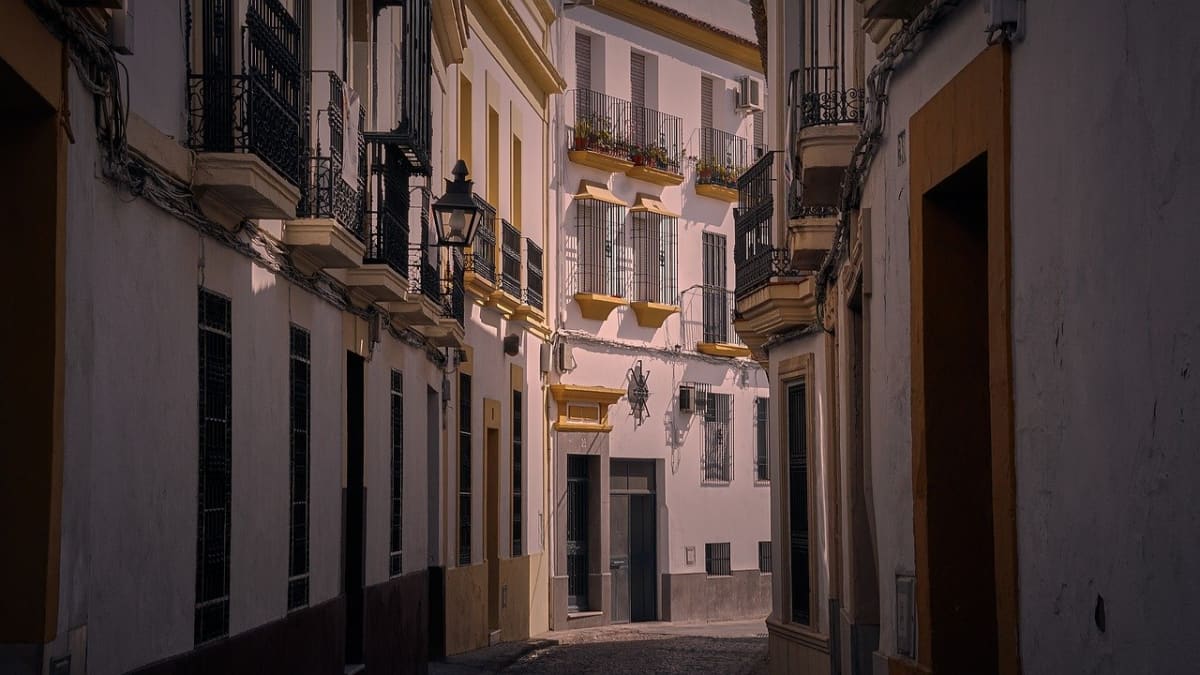 Tapas and Drinks
For an authentic welcome to Valencia nightlife, head to Ruzafa, the city's hipster district home to a myriad of great bars and trendy restaurants. We recommend a late dinner of fusion tapas at Canalla Bistro or delectable seafood and wine at Bocamada. If you want to fully immerse yourself into Spanish lifestyle, adjust your body clock to Spanish time where there is a huge focus on late-night culture. Typically, Valencians enjoy dinner around 10pm, after-dinner drinks around midnight and, for the more energetic, hit the nightclubs around 2am. This is not for the faint-hearted and the Valencians are adept at partying late in the night.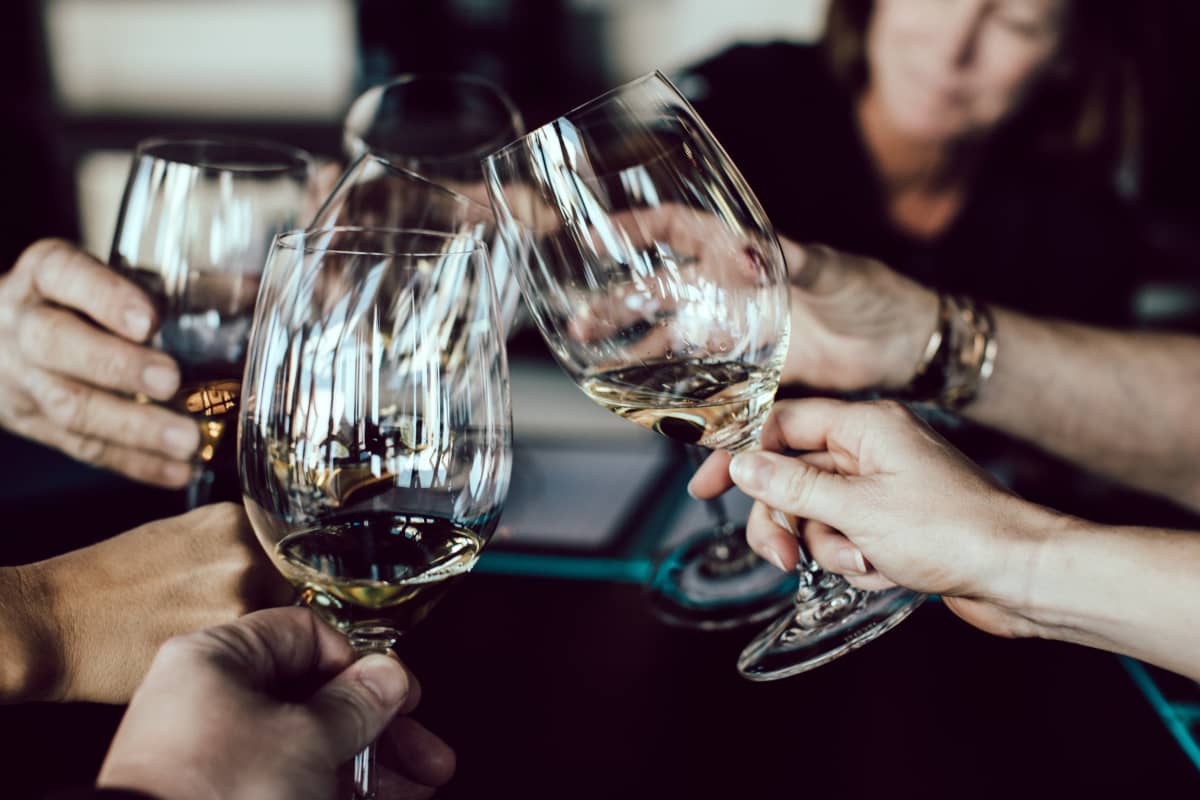 Day 2
Try a Valencian Delicacy
Follow the locals for a traditional experience at Mercado Colón. With its stained-glass windows and lofty ceilings, this classy ex-market hall is yet another example of stunning Valencian architecture. This is also the perfect moment to try traditional Valencian 'horchata', a refreshing sweet drink, best enjoyed with 'fartons', a sweet bread finger. Not your thing? Check out our alternatives on where to find great brunch in Valencia.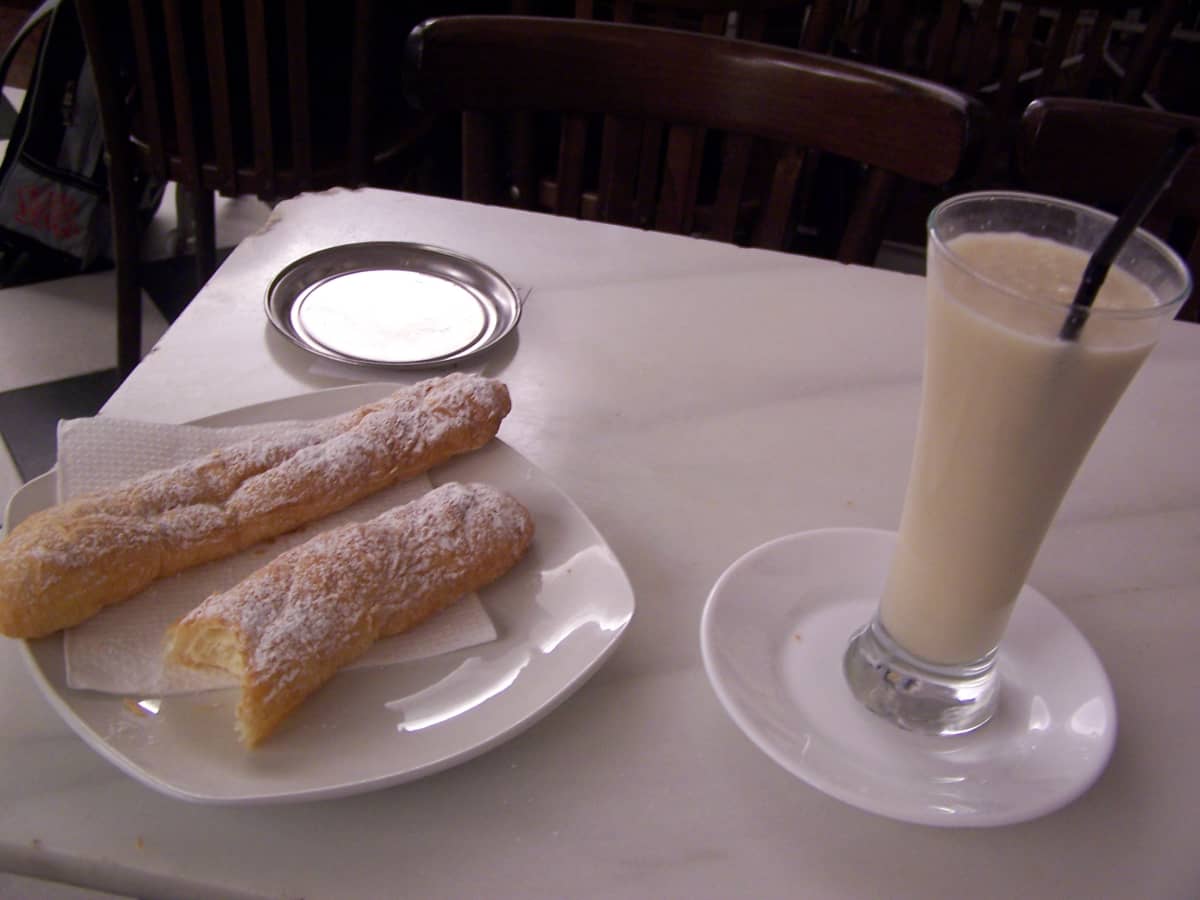 Cycle Through the City
Stroll through the city's greatest asset, the stunning Turia Gardens, and enjoy the midday sunshine. If you're feeling particularly active, we recommend hiring a bike and taking a leisurely cycle from the Turia Gardens down to the less-touristy beach of Patacona. This beach town maintains an old-world charm with coloured-fronted houses and idyllic beach-side views - one of the best places to take your Valencia photos.
Valenbisi offers a helpful service with plenty of stations all around Valencia, easily accessible with their weekly passes available to purchase on their website. Or, there are plenty of bike shops scattered around Valencia that offer an affordable rental service as well.
Eat Paella by the Beach
As much as we love tapas, it is true that no trip to Valencia is complete without trying traditional Valencian paella, the most well-known rice dish. The traditional recipe is a delicious mix of chicken, rabbit, green beans, garrofós (a variety of lima or butter beans), and occasionally snails.
This famous rice dish was actually invented in Valencia and is a huge part of local tradition, with families in the region often sharing a paella for Sunday lunch. After undoubtedly working an appetite from your bike ride, we recommend visiting Casa Navarro or Casa Carmela for authentic paella by the beach. Enjoy this experience in a traditional way accompanied by a good local wine and eaten straight from the paella dish!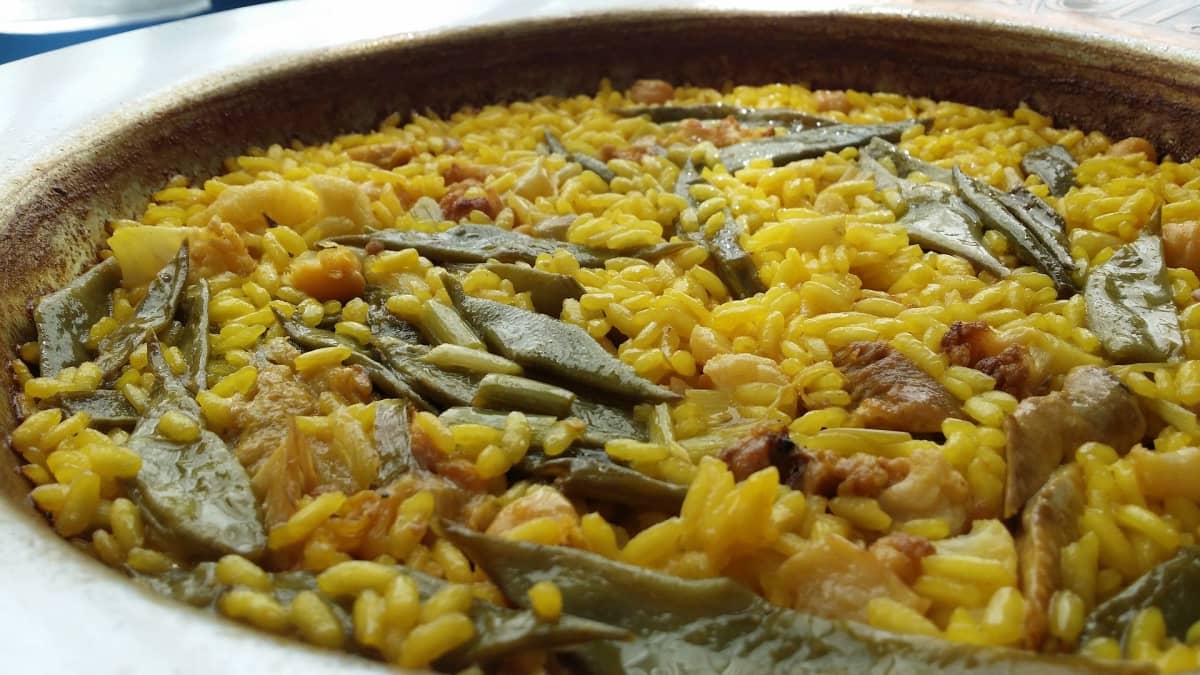 Rooftop Dining Experience
End your day in Valencia with an intimate small group experience: a sunset tour of the modern City of Arts & Sciences complex and learn the story behind this incredible feat of engineering from Sea Saffron's knowledgeable and passionate hosts. In TripAdvisor's top-rated activity, get the insider scoop on Calatrava's 7-piece complex before being welcomed into the highest rooftop terrace in Valencia, complete with epic panoramic views of the city.
The guides at Sea Saffron share our love of our home city through our passion for gastronomy and wine, inviting travellers to enjoy a high-quality tasting menu of mouthwatering tapas, paired with a comprehensive wine tasting of prizewinning wines from the region. This location is the best place to unwind after your busy day, and gives you the opportunity to experience the best view of the Valencia sunset for an unforgettable end to your trip.