Valencia is the perfect option for a weekend break. With its blend of beach, culture and gastronomy, there is something for everyone during 3 days in Valencia, Spain. Smaller than Madrid and Barcelona, Valencia has a big-city buzz with a small-town feel. It is very easy to get around and is very pedestrian friendly. This makes it the ideal city to explore over 3 days.
How To Enjoy 3 days in Valencia Spain
Getting Around
Walking - Valencia is a very flat city and easily accessible by foot. All places mentioned in this three day itinerary are within a 1-hour walking distance.
Bike - For those who love to cycle, Valencia is very cycle-friendly with bike lanes throughout the city.
Taxis - You can find taxi ranks all over Valencia. Taxi services are relatively cheap costing about 5-10€ between places in this itinerary.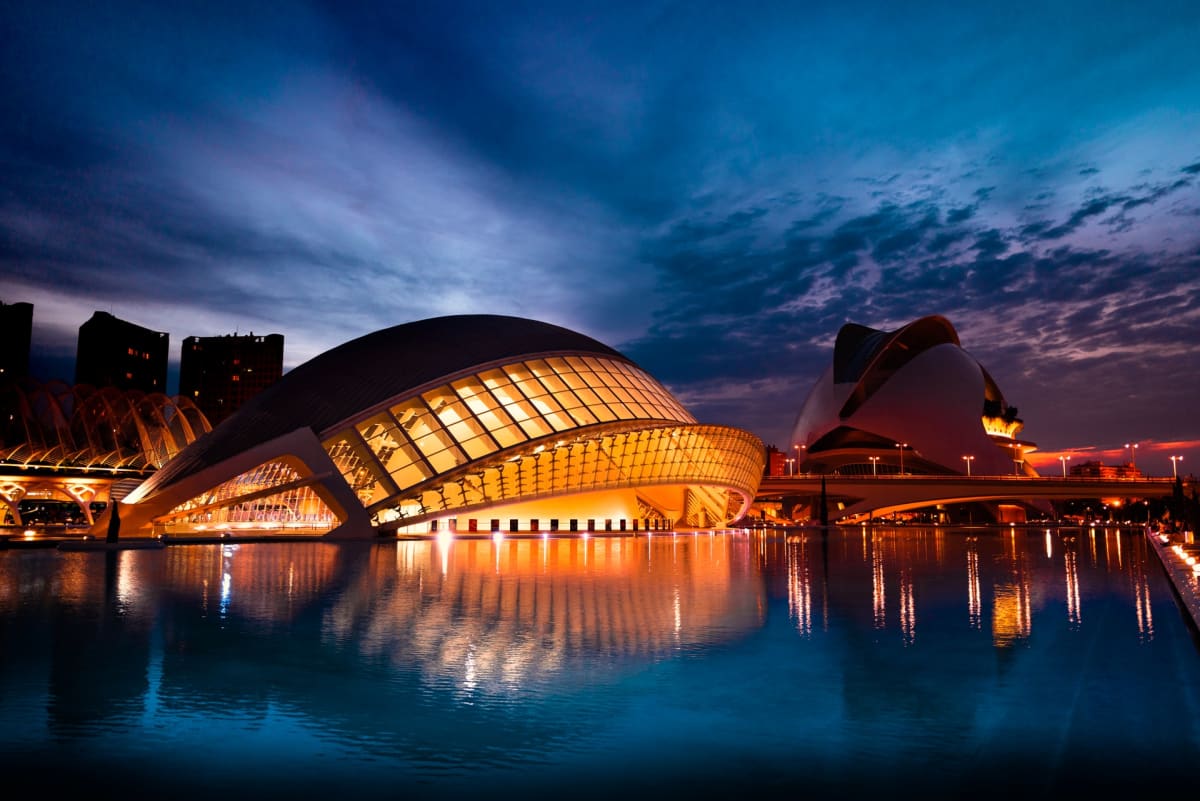 Day 1 - Valencia Old Town
Mercado Central
Start your 3 days in Valencia with breakfast in a favorite spot. In the heart of the city you will find the famous Mercado Central (Central Market). Recognized as the largest food market in Europe, locals and tourists flock to the market for all their fresh produce. The building itself is iconic and representative of Valencia's art-nouveau movement. Get lost in the countless aisles and don't forget to look out for the ornate domed ceilings! Whilst here, we recommend trying horchata and fartons. The horchata is a traditional drink made with chufas (tiger nuts) and is eaten with a traditional Valencian food, farton, a long sponge finger. If you want to steer clear from the crowds, take a seat in one of the surrounding cafes. Do like the Valencians and opt for tostada con tomate (toast with tomato and olive oil) and a cafe con leche (milky coffee).
Old Town Tour
After breakfast, you will be in the perfect spot to explore Valencia Old Town. Valencia's historic center is steeped in history. It is an intricate blend of different periods of history and different architectural styles, dating back to the 11th Century. The best way to uncover the secrets of the Old Town is through an intimate small-group tour. Let your passionate local guide share the fascinating stories behind Valencia's most famous landmarks (and some off the beaten track spots!). Marvel at the elaborate frescos of Iglesía San Nicolas, stop for photos in the iconic Plaza de la Virgen and retrace the steps of King James I when he reconquered Valencia in 1238!

This tour of Old Town Valencia Spain culminates with a unique dining experience in one of the city's best kept secrets. Dine in a venue dating back to the 11th Century, surrounded by the original city walls! Here your Sea Saffron host invites you to enjoy traditional Valencian flavours. We prepare a menu specially-designed to showcase the best of local flavours and ingredients. We shine a spotlight on the Valencian region and share our favourite local wines and delicious tapas. Experience something unforgettable in the stunning interior terrace, discovering authentic Valencian culture and traditional cuisine.
DINE IN AN 11TH CENTURY VENUE!
Unesco Heritage in Old Town Valencia
There are so many unmissable spots in Old Town Valencia. Visit the Lonja and its expansive halls; this was once the center of Valencia's bustling silk trade and holds a lot of cultural importance, now acknowledged as a UNESCO World Heritage site. The imposing Valencia Cathedral is also a must-see. Thought to be the home of the Holy Grail, the cathedral encompasses different architectural styles making it a fascinating building to see. If you are feeling active, climb the 207 steps of the El Miguelete bell tower! Or, opt for the Torres de Serrano, formerly the main entrance to Valencia when it was a walled city. It is the largest Gothic city gateway still in existence across Europe.
Tapas in El Carmen
Adjust your body clock and get on Spanish time for your 3 days in Valencia. The Spaniards are known for their late night culture and late dinners. You will be spoilt for choice as the area of El Carmen is full of tapas bars. If you are looking for a traditional dinner, try Casa Almudín. This rustic little bar is known for its patatas bravas and vermouth. If you would like something more modern, try Gallina Negra for incredible fusion tapas. Their cheesecake is also supposed to be the best in Valencia.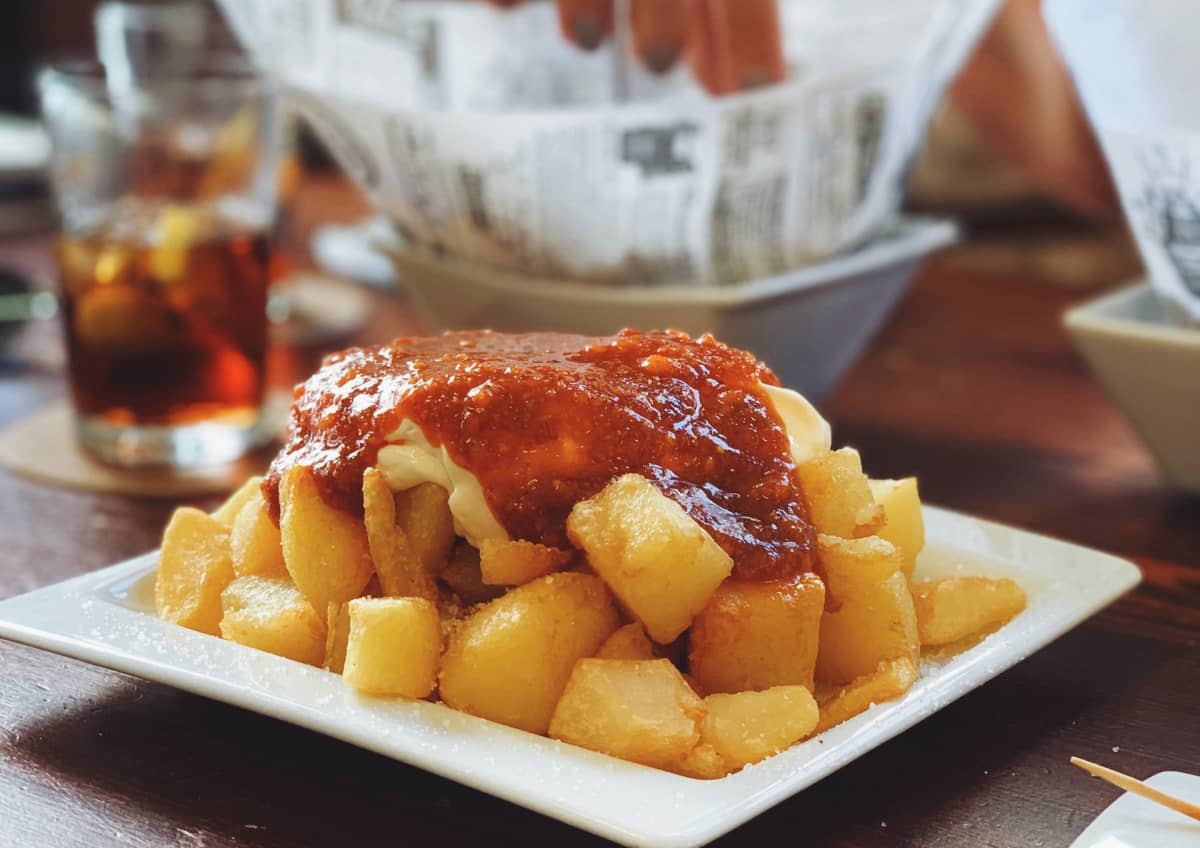 If you want to soak up the nighttime atmosphere of El Carmen, choose one of the many bars in the atmospheric Plaza Negrito. This square is an ideal spot for a post-dinner gin and tonic. Or visit Cafe de las Horas with its quirky Baroque interiors. This is the best place to try the quintessentially Valencian Agua de Valencia: a deliciously dangerous blend of fresh Valencian orange juice, cava, vodka and gin!

Day 2 - Modern Valencia
Brunch in Ruzafa
Ruzafa is known as the trendiest neighborhood in Valencia. The district was built at the beginning of the 19th Century and is known for its colourful building and iron balconies. Formerly the bohemian area of Valencia, it is now lined with cool restaurants and classy brunch spots. Spend a leisurely morning in the picturesque streets and stop for brunch at one of the many cafes. Our favourite Valencia brunch spots are Bluebell Coffee Roasters or Café Artysana.
Modern Art
Valencia boasts an impressive art collection, from the classic all the way through to contemporary. For modern art, check out the IVAM. This is Valencia's most important institution for contemporary art. It is known for its diverse displays and thought-provoking exhibitions. The Centro Cultural Bancaja is also a favorite for interesting modern exhibits. If you are after something more classic, Museo de Bellas Arts de Valencia is the second largest art gallery in Spain. Acknowledged primarily for its collections of Sorolla and Goya, it has the oldest collection in the city dating back to the 15th Century!
City of Arts and Sciences
No trip to Valencia is completely without seeing the impressive avant-garde architecture of Santiago Calatrava. Set in the greenery of the Turia Gardens, the 7-structure complex is reminiscent of a science-fiction movie! Learn the stories behind these spectacular structures on an award-winning City of Arts and Sciences tour followed by tapas and wine at Valencia's highest rooftop!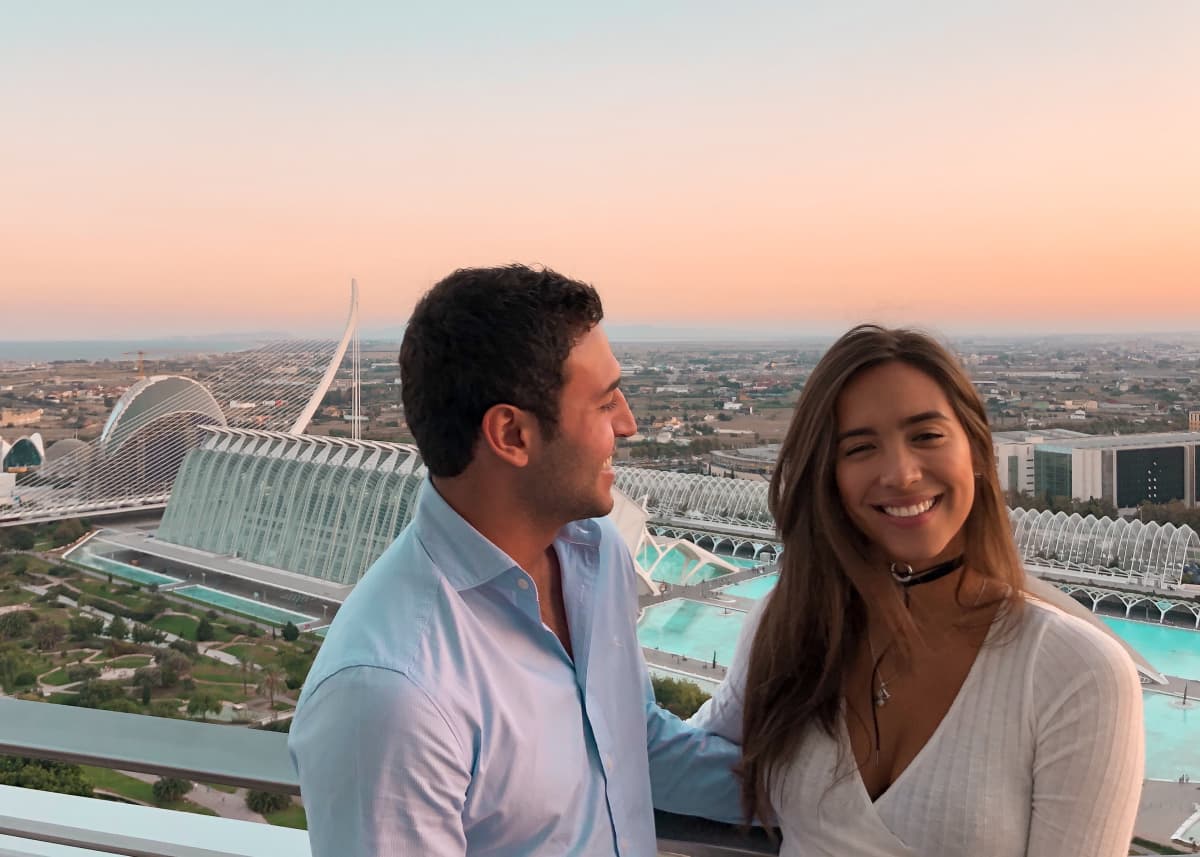 This small group experience includes a guided tour of the futuristic complex before seeing breathtaking views from Valencia's highest rooftop. In this private setting, watch the sunset over the city and the surrounding Valencian region. Enjoy a specially-designed menu of local produce and prizewinning regional wines. These panoramic views are the must-see during an incredible 3 days in Valencia.
DISCOVER VALENCIA'S HIGHEST ROOFTOP!
Day 3 - The Beach
Patacona
Valencia's beaches are some of the most beautiful on the Mediterranean coast. The most popular beach is Playa Malvarrosa. However, slightly further along the coastline is the lesser-known Playa Patacona. Loved by locals and slightly less touristy, this beautiful beachfront is known for its coloured fronted buildings and stunning promenades. Stroll down the Paseo Marítimo promenade for stunning seaside views and enjoy the beauty of both beaches.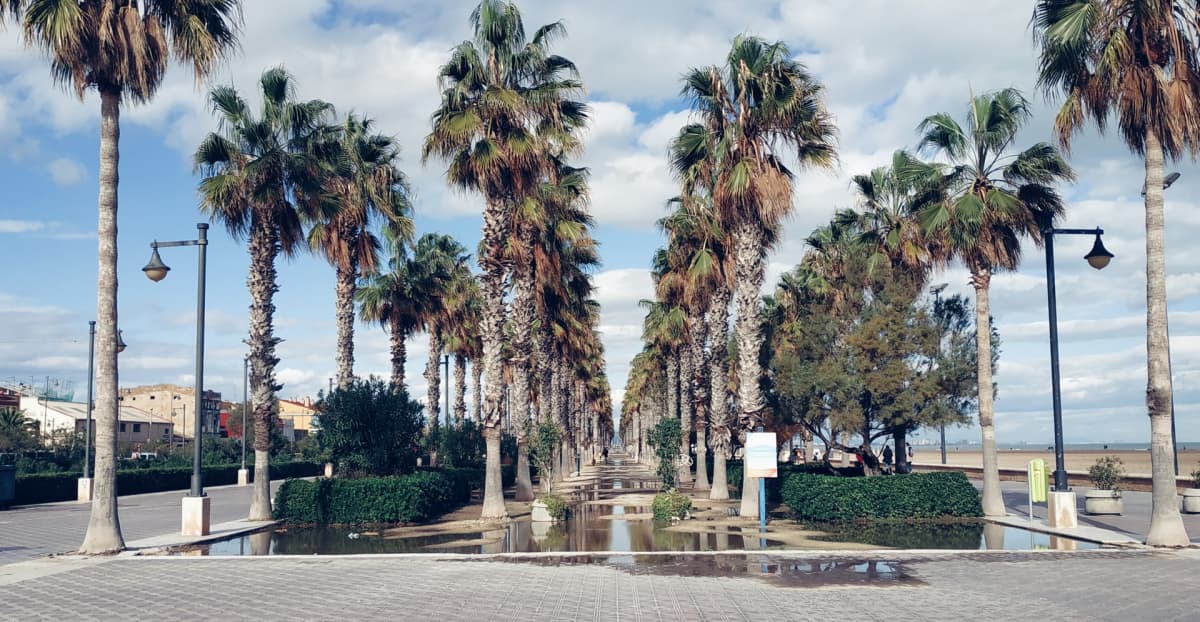 Paella by the Beach
Some of the best paella in Valencia can be found down by the beach. Valencia is the birthplace of paella and the rice grows in the freshwater lagoon of Albufera. Typically enjoyed as a midday meal, traditional Valencian paella is made with chicken and rabbit, rather than seafood. The most iconic place to try paella by the beach would be La Pepica, made famous by Ernest Hemingway. It was also reportedly where the Kings of Valencia used to dine! For somewhere less touristy but equally authentic, try Casa Carmela or Casa Navarro.
Drinks at the Marina
At the end of the beach you will find the Marina of Valencia. Renovated for the 2007 America's Cup, the Marina area is one of the most modern in the city. This is evident in the architecture of buildings such as Velas e Vents, formerly home to one of Valencia's Michelin star restaurants. Spend a tranquil evening watching a stunning Valencia sunset from a harbourside bar and admire the reflections on the water. This is the ideal spot to end your 3 days in Valencia Spain.